2006-2007 - The Year of Yao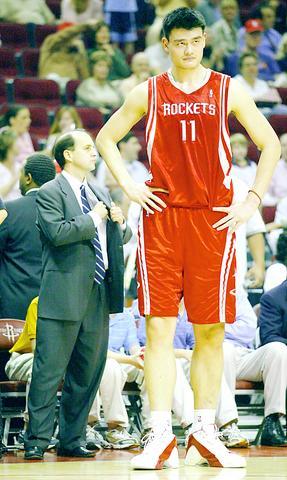 The Texans continue to be a franchise in disarray. The Astros sputtered all summer long thanks to inconsistent pitching and terrible hitting. The Comets are for sale. The 1836 was disbanded before it ever got off the ground (wait, it wasn't?), and the Katy Copperheads offense shows no signs of improving without Bam Morris getting off the leaf. Will this fair city
ever
see a championship again? Yes, and soon.
The Houston Rockets are going to win the 2006-2007 NBA Championship. Carroll Dawson and Daryl Morey had a splendid offseason, adding Shane Battier, Bonzi Wells and Steve Novak without disturbing the core of their talented team. T-Mac and Yao are reportedly as healthy as could be hoped for. On paper, I do not believe that there is a single team that is unquestionably better than this year's edition of the Rockets. Battier and Wells are great fits, and those two plus Novak and Padgett will provide a quartet of much needed perimeter threats to open up the lane for T-Mac and Yao to go to work. There are questions, naturally, but such is the case with all teams heading into their seasons. Here are three that come to mind.
1.
Can T-Mac and Yao stay healthy
? Who the hell knows. But if they do, the Rockets have the best inside-outside punch in the league. D-Wade is special, but Shaq's no Yao at this point in his career. Yao is the best center in the league, and T-Mac is without question one of the most versatile talents in the league.
2. Who will back up Yao?
This is the one position that I would really like to see the Rockets upgrade before the trading deadline passes. The triumverate of Dikembe Mutombo, Juwan Howard and Chuck Hayes should be able to get the job done, especially on the defensive end, but it would certainly be nice to see a solid big added at some point prior to the playoffs. I expect that if Bob Sura's valiant attempt at a comeback falls short, his roster spot will be used to bring in a veteran big man to help back up Yao.
3. Will Bonzi and JVG be able to co-exist?
It's all on Bonzi. I'm admittedly a big-time fan of JVG, but even a more objective observer realizes that JVG has been able to get quality play out of knuckleheads like Anthony Mason and Charles Oakley. Bonzi, much to his own regret, was forced to take a one year deal with the Rockets for about 5% of the money that he was guaranteed to receive in Sacramento. He has much to prove, and he was smart to choose the situation that he chose in Houston. JVG is a player's coach, albeit a tough one, and Bonzi is going to get the opportunity to play a valuable role as the third scorer on a championship contender. If he plays to his capabilities this season in Houston, the sky's the limit for his free agent negotiations next season. But teams around the league are likely to become quite cautious if he is unable to succeed in Houston this season, surrounded by circumstances that appear to fit his role quite perfectly.
I don't know who they'll have to beat to get there, but I do have a feeling that after three tough years, Van Gundy and the Rockets' front office have finally assembled the pieces just right. Everything is in place, and I am very excited to watch them as they begin their long journey to a ring.